Lesbian Sugar Mamas And Sugar Babies Talk About Their Relationships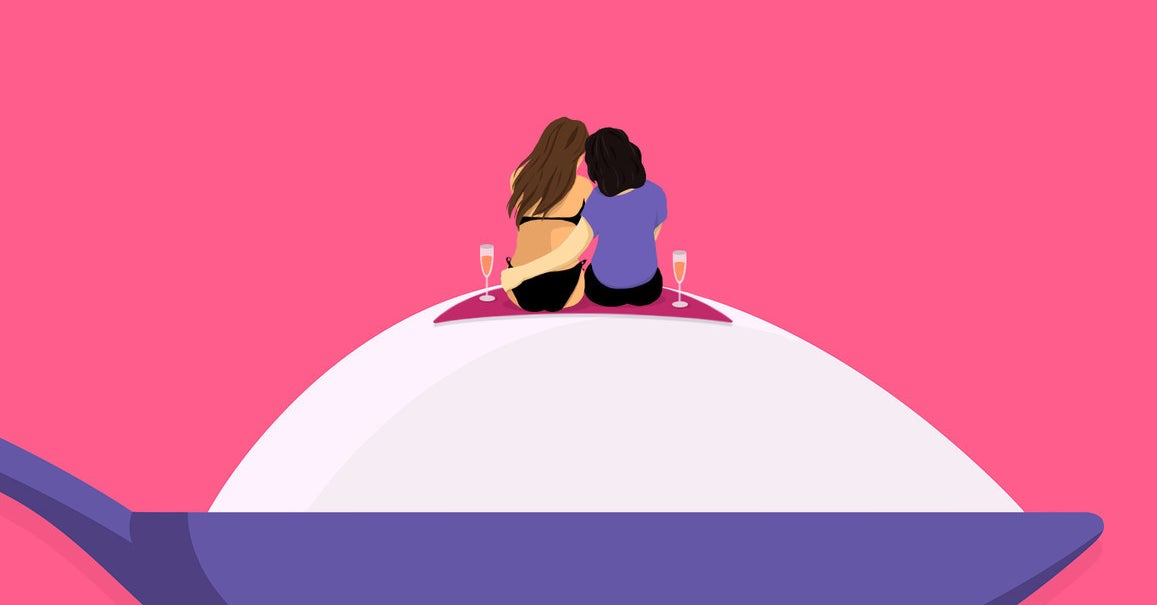 "Sugaring seemed fun and the taboo nature of it made it extra spicy."
I spoke to 15 queer sugar babies and sugar mamas on various sugaring websites to learn more about their relationships. Jessica is just one of the hundreds of thousands of sugar mamas in the United States who support people in exchange for everything from spending time together to recording made-to-order porn. The top website for the "sugaring" community, Seeking.com, boasts 370,498 sugar mamas, representing 15.4% of the sugar parents (or "glucose guardians") on the site. According to a spokesperson for Seeking.com, 8% of the site's sugar mamas are searching for women. There are more than 8 million women sugar babies on the site, but only 1% of them are seeking other women for a sugar relationship.
While most sugar relationships have historically involved an older man with a younger woman, a growing portion of the community consists of lesbian relationships. And although the online element is new, women paying for sex is not. Rich women have always been willing to pay for sex and companionship. In ancient Rome, according to historian Nils Johan Ringdal in Love for Sale, women paid gladiators to have sex with them. In the US, the ability for women to pay for sex has historically been difficult. But in the 21st century, as women earn more money and sexual double standards slowly loosen, some women are using their earning power to hire lovers and companions.
Since SeekingArrangement was founded in 2006, men have commonly been the sugar parent because they "have more resources [and[ more social capital to provide individuals with mentorship," said Srushti Upadhyay, a doctoral student in sociology at the University of Buffalo who wrote a paper about the sugaring community published earlier this year in the Journal of Sex Research. But, Upadhyay added, not all sugar relationships involve sex.
The sugar babies I spoke to said their connections with sugar mamas involved much more than physical intimacy.
"Every single woman I've connected with has been kind, interesting, conversational, and very respectful of (digital) consent. I think there's something deeply profound about how self-controlled women seem to be compared to men," one lesbian sugar baby who advertises on Seeking.com wrote me. "A lot of what I've seen on [Seeking.com] is women seeking to mentor and assist younger women — in addition to any sorts of sexual favors, dates, etc. Not at all what I was expecting when I got on this site, but what a pleasant surprise! I've gained some incredible professional mentors so far, so it's become its own sort of networking for me. There are some BADASS women on this site. Serial entrepreneurs, tech moguls, medical professionals."
Upadhyay said people are drawn to sugar dating because it is more upfront than the regular kind. "Everybody is clear on what they want. If they want discretion, they tell you. If they were married, it is already available [in their status]," she said. "So everybody lays out their expectations, which makes it drama-free because that conversation does not usually happen in a romantic relationship or in the beginning stages of the relationship."
Less drama isn't the only reason Jessica sought out a sugar baby. "[I'm] a closeted bisexual woman [and] not the best-looking," she said. "Sugar dating allows me to highlight my strengths, such as my successful career, financial capabilities and stability, and my love to help another person out."
During the pandemic, she and Cassie have picnicked together, taken walks, and watched a drive-in movie — but, like the rest of us, they've "mostly staying in watching a movie/TV show and ordering food," Jessica wrote in an email. "The majority of the times, such platonic activities would be followed by sex and cuddling. But personally, it is not something I have done every single time I meet with my (current or previous) SB(s)." When I asked Cassie about the sex, she declined to give specifics, except to say that Jessica "really know[s] what she is doing."
They said the daddies know they're lesbians (it's in their profile) and are aware that Maeson and Taylor won't have sex with them. "A lot of them are very respectful and don't push that boundary with us, which is very appreciated on our end," Maeson said. "They are only allowed to watch." Still, some men are pushier. "A guy wanted us to meet, and he wanted both of us to fuck him in the ass with a strap-on after we had told him it was no touch, no contact," Maeson said. "[The request] just made us laugh."
I asked them why they thought sugar daddies would hire a lesbian couple. "A lot [are paying for] a relationship and friendship and just have someone to talk to. They're lonely. So they're needy," Taylor said. "Very," Maeson chimed in. "We make them pay for it," Taylor said. Maeson added that others "just think it's hot."
They said sugar daddies usually pay the couple for custom videos and "live porn" where they engage in sex acts by request (scissoring and strap-on play is very popular) while he watches in a hotel room. Videos can fetch up to $500, but photos can garner a lot of money, too. Maeson told me she recently got a request from a sugar daddy for a picture of her butthole. She charged him $200 as part of a bundle. Sometimes men will give them money just to help them out. "[A sugar daddy] sent me $700 to fix my car," Maeson said, adding, "I'd much rather have a sugar mama. I just connect so much better with women than I do men."
Although the relationship is taboo, the sex she wants isn't. "I'm pretty vanilla in what I like," she said. But there is one major difference between sex with her sugar baby and with an unpaid partner. "The sex talk happens a lot sooner [in a sugar baby relationship]," Tanya said. "Before an arrangement happens, I always make it clear that consent is important to me, and I never expect my SB to do anything she is not comfortable with or she doesn't like … in and out of the bedroom."