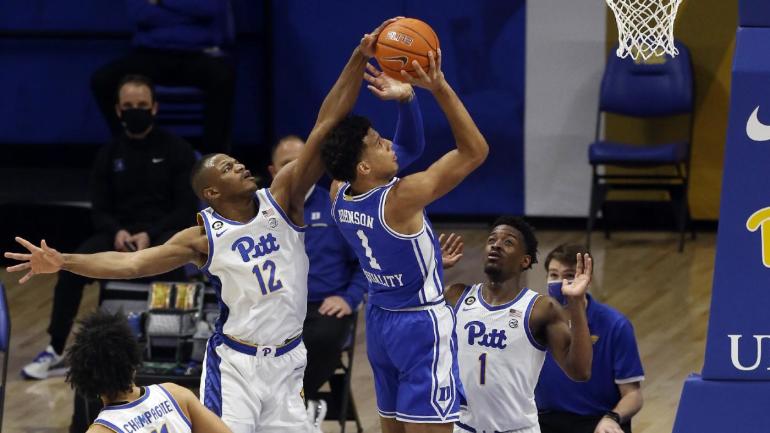 USATSI
Duke freshman forward Jalen Johnson has opted out of the remainder of the college basketball season, a source confirmed to CBS Sports' Matt Norlander. Johnson, a former five-star recruit, ranked as the highest-rated prospect in Duke's 2020 signing class. A 6-foot-8 forward who showcased guard skills as a ball-handler and passer at the prep level and in bursts at the college level, he leaves the program as a likely first-round draft selection.
Still, Johnson was never able to quite fulfill expectations that typically accompany one-and-done talents at Duke. Part of that can be blamed on COVID-19 and the lack of preparation in the preseason because of the pandemic typically afforded to newcomers. Plus, Johnson had to deal with a lingering injury. He missed more than a month because of a foot ailment that spanned from mid-December to mid-January. Yet even when he returned his performances were somewhat inconsistent, and over the last few games, his playing time had dwindled. He was not in the starting lineup in Duke's last three games.
"I have confidence in him," Duke coach Mike Krzyzewski said Saturday of Johnson after he played only eight minutes in a win over NC State. "We're going to keep working with him and he'll have opportunities. Today, going in another direction worked out well for us."
Duke (8-8, 6-6 ACC), with six remaining regular season games, is on a collision course to fall well short of an at-large bid to the NCAA Tournament. Should it miss the tourney, it would end a streak of 24 consecutive appearances, the second-longest streak among all college basketball teams. While it still has a talented roster capable of potentially making a run in the ACC Tournament and clinching the league's automatic bid, moving forward without Johnson the team's potential is docked considerably.