A Popular Food Blogger Whitewashed Pho. Asian Americans Are Now Demanding More Than Damage Control From Her.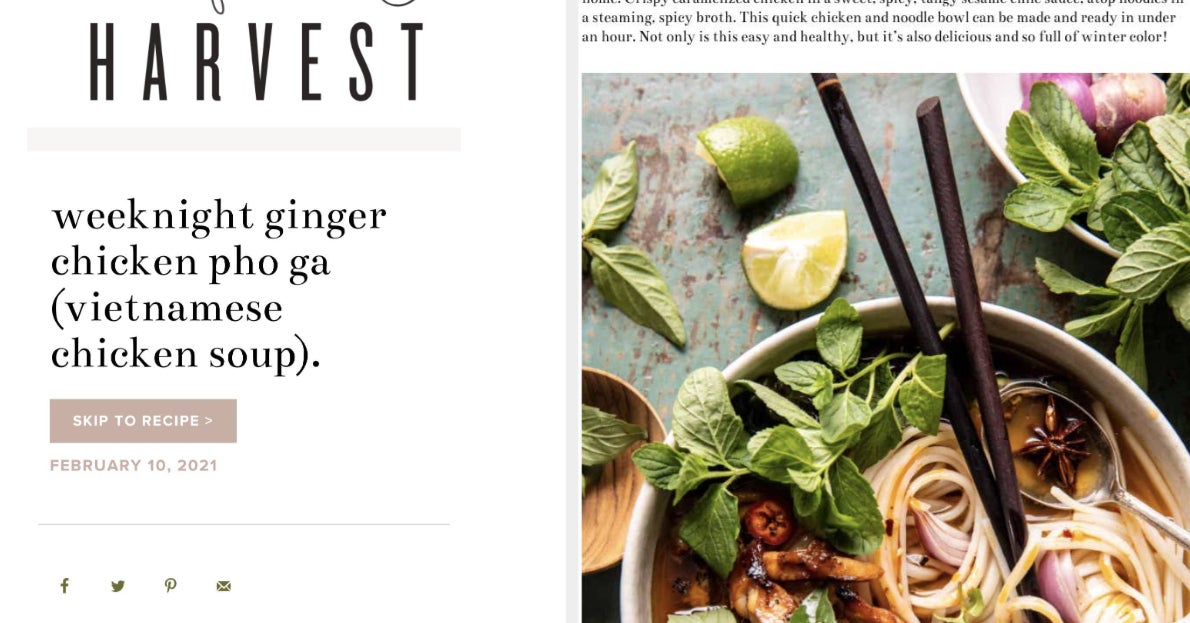 Tieghan Gerard of Half Baked Harvest has since changed the recipe name, but Vietnamese Americans don't believe she's internalized why the appropriation was hurtful.
Asian Americans and other fans of Tieghan Gerard and her massively popular Half Baked Harvest food blog are asking her to engage more thoughtfully with critics about her "Vietnamese inspired noodle soup" recipe, which she first called pho.
Gerard has since changed the name of the recipe, but some Vietnamese Americans feel it's not enough. They believe she, and so many other non-Asian food bloggers, still — despite years of critique — do not fully understand why this kind of cultural appropriation is hurtful, and they want that to change.
Earlier this month, Gerard shared the noodle soup recipe to her blog and to her Instagram audience of over 2.7 million people. The original recipe was titled "Weeknight ginger pho ga (Vietnamese chicken soup)." It has since been renamed "Easy sesame chicken and noodles in spicy broth."
The food blogger described the dish as something that can be prepared in an hour. Some ingredients she listed included caramelized chicken and a "sweet, spicy, tangy sesame chile sauce."
The post drew immediate criticism from Asian and Vietnamese fans because pho, perhaps Vietnam's most iconic dish, is known for being a labor of love and requires many hours of flavor development. Although there are some variations, traditional pho is usually made with beef and requires a specific kind of noodle, broth, and garnishes.
"I really LOVE so many of your recipes, and I appreciate what you're doing, but this is not pho. And to call it pho (even chicken pho) is not only appropriation, it's honestly hurtful," wrote one commenter on her blog. "This recipe does not reflect the actual ingredients of Vietnam that go into pho, all of the time and work that goes into pho or the actual flavors OR presentation even of pho."
Vu said she wasn't satisfied with the response.
"The lack of acknowledgment can really hurt the Asian community," said Vu. "This specific example, despite the fact that it's 'small,' can be extrapolated to casual appropriation situations that Asian Americans experience…the fact that she dismissed me really hurt me."
A woman named Rachel Rock (@rachelkayrock), 25, said she was blocked by Gerard after amplifying Vu's posts calling her out.
"After reading Steph's post, I shared it on my stories in solidarity with her and because I know a lot of my friends also cook HBH's food and it was super disappointing to read how she was handling the situation," Rock told BuzzFeed News. "Shortly after I shared Steph's post on my stories, I noticed that Tieghan had blocked me."
Rock says she hopes Gerard is listening intently to the critiques from Vietnamese Americans.
Gerard at first ignored such comments, instead responding to only comments that did not bring up racial insensitivity.