A Man Who Was Charged With Leading The Mob That Chased Officer Eugene Goodman In The Capitol Will Stay In Jail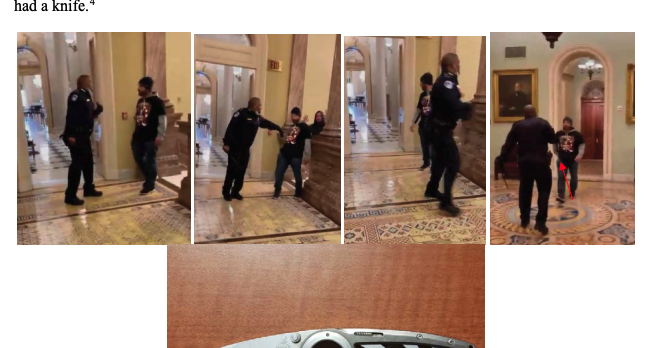 Douglas Jensen's lawyer didn't fight the government's request to keep him behind bars for now.
WASHINGTON — An Iowa man who was charged with leading the mob that chased Capitol Police Officer Eugene Goodman during the Jan. 6 insurrection will stay in jail as his case goes forward; his lawyer told a judge Tuesday that he wouldn't fight the government's effort to keep him behind bars.
Prosecutors had petitioned to keep Douglas Jensen in jail after a judge in Iowa ruled last month that he could go home following his arrest and first court appearance. As Jensen waited — still in custody — for a federal judge in Washington, DC, to consider his situation, a grand jury returned a new indictment that added more serious charges, including weapons offenses. By the time he finally appeared by video for a detention hearing on Tuesday, his lawyer notified the judge that they weren't going to press for his release at all but reserved the right to bring it up later, depending on the evidence they get from prosecutors.
A video recorded inside the Capitol on Jan. 6 by a HuffPost reporter showed Jensen gesturing and yelling at Goodman as the officer tried to control a crowd of rioters. Jensen, at the front of the mob, then appears to chase Goodman. He is facing multiple felony charges, including that he obstructed Congress from certifying the results of the presidential election; assaulted, resisted, or interfered with police; and carried a "dangerous or deadly weapon" when he illegally went into the Capitol — in his case, a knife with a 3-inch blade. Jensen isn't charged with using the knife, but just having it in his pocket at the time escalated the severity of the charges he faces.
Jensen went home to Des Moines after participating in the insurrection and was arrested on Jan. 8. Shortly before his arrest — and after the video of him inside the Capitol had spread quickly online — he walked into a police station in Des Moines and agreed to an interview with a police detective and an FBI agent; according to the government, he said that he wanted to speak with someone because he believed he was in trouble. During that interview, he said that he was a follower of the QAnon mass delusion and traveled to Washington on Jan. 6 because he believed President Donald Trump was going to order the arrest of Vice President Mike Pence and other members of the "corrupt government" and he wanted to see that.