Why Are Millennials So Worried About Moving Back In With Their Parents?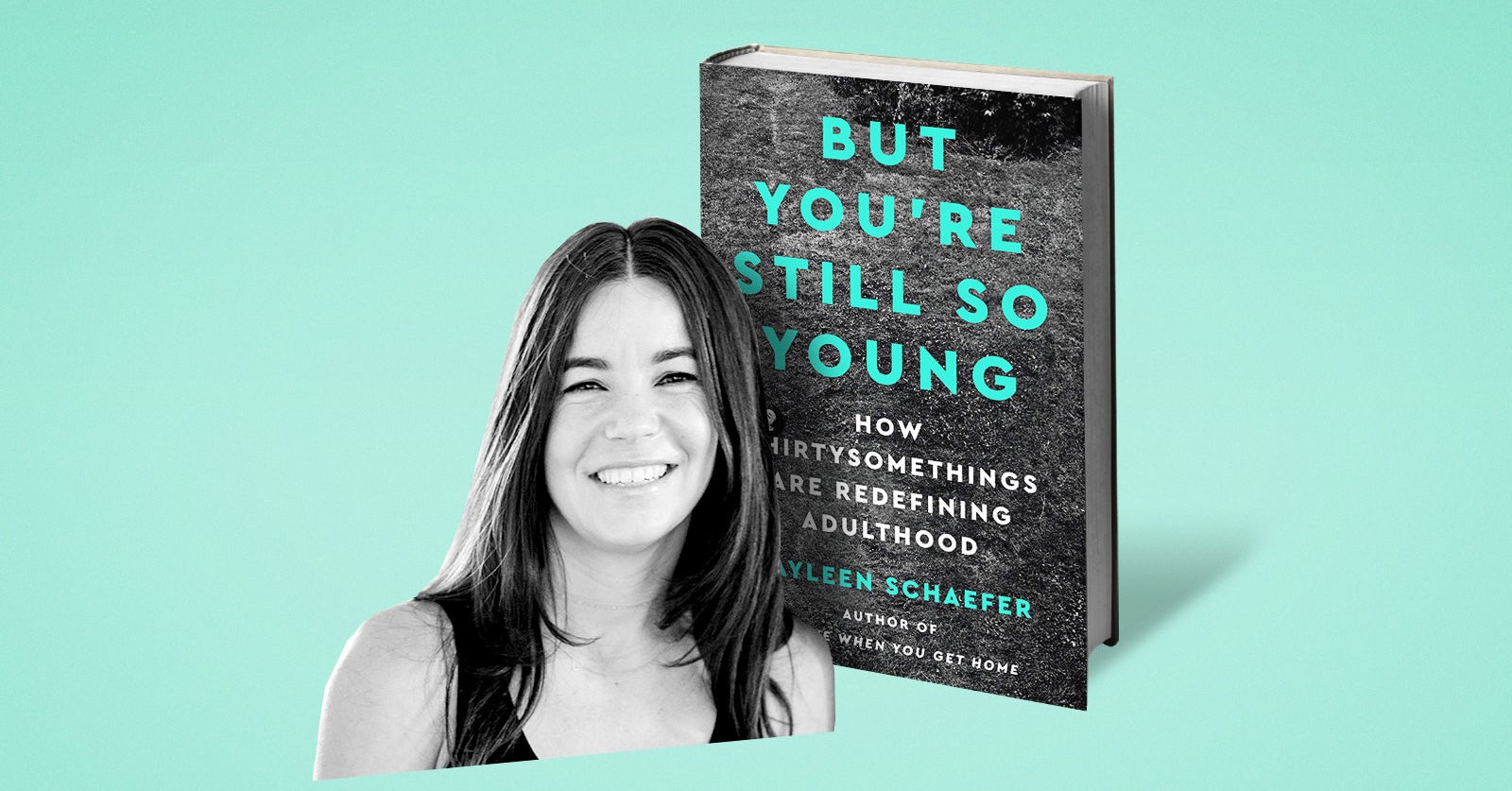 Sally never expected to be living with her parents when she turned 30 — but moving back home helped her build the life she truly wanted. (An excerpt from But You're Still So Young.)
Sally never expected to find herself back in her parents' house. But at 30 years old, she was living with them, in the bedroom her sisters shared growing up, in Queens, New York, trying to figure out what to do next and why her plan had fallen apart. Sally was born in the Dominican Republic and immigrated to the United States with her parents and two younger sisters when she was three. Her parents married in their midtwenties, and Sally thought she would get married around the same age. She'd fallen in love with her college boyfriend, at Stony Brook University on Long Island, and they had gotten engaged. At the time, Sally wanted to live in Paris. She had dreamed of doing so since her first trip there as a teenager, when she'd been immediately entranced by the city. She learned French and had traveled there two more times, once with her fiancé. But her fiancé never wanted to live anywhere other than New York. Sally thought he might change his mind, and in the meantime, they'd have their wedding. "I was like, Oh, okay, I'm going to get married, and it's going to be cool," Sally says. Marriage was the start of her adult life, and she was willing to put aside her dream of living in Paris to stick with the plan and make sure it worked.
Then she and her fiancé broke up. They were fighting a lot, mostly about him being distant, and also about money. Sometimes Sally can downplay her emotions, especially when she's reacting to something negative that happened, and ten years after she and her fiancé ended their engagement, she's casual about the decision. They talked about how if they were already married, they would go to therapy and figure out how to communicate better, "but because we were just engaged, it was easy to be like, 'Well, this isn't working, so whatever, okay, I guess we're going to do something else now,'" she says. Still, she admits, "it was a terrible time in my life." She was letting go of her fiancé, their partnership, and how she saw her future.
She didn't decide to go to Paris immediately. She went to work as usual. She worked in digital marketing at Latina magazine, but she was sad and unmotivated every day. Maybe everything felt heavier because she was mourning the end of her relationship, but she kept imagining what her career would look like if she stayed in New York and continued this career path, and hated the trajectory she saw. She pictured herself plodding along as a manager for another year or so, then being promoted to director, and maybe eventually being the boss. She didn't want to do any of that. So she quit and bought a ticket to Paris. She planned to be there for three months, a test run for moving permanently.
She stayed with a friend in the 6th arrondissement, and life in Paris was exactly how she fantasized it would be. She spoke French, went on walks with friends, hung out in cafés, and visited the Musée d'Orsay and the Père Lachaise, the cemetery where Jim Morrison and Oscar Wilde are buried, and one of Sally's favorite places in the city. She returned to the United States, and after saving some money from hosting writing workshops and working for a college‑prep company editing students' admission essays, decided to go back to Paris—this time, on a one‑way ticket. Another friend said she could stay with him for free as long as she needed, and she hoped to host a writing retreat in Paris, so she'd have some income if it took her a long time to find a job. She advertised the retreat on her blog, and a few readers responded that they wanted to attend. She thought she'd planned as well as she could.
When she got off the plane in Paris, she felt great. She had a sense of being at home whenever she was there. And now she was excited to make the city her real home. But after only a few weeks, her friend needed to move out of his apartment; Sally would have nowhere to stay. She tried to book an Airbnb for cheap—she hadn't found a job and was running low on money—and instead found one where she could stay for free, in exchange for helping the host edit the book he was working on. Sally didn't let herself be nervous about the arrangement. This was a way to remain in Paris. "I was mostly like, 'Oh thank goodness, a bed,'" she says. "That was all I needed at that point."
But a few days into the arrangement, the owner of the Airbnb woke her up and told her she had to go. He decided that he didn't want her to stay for free anymore; he was going to charge for the room again. She did the only thing she could think of. She rolled her suitcase across the Seine to the Père Lachaise cemetery. On her previous trips to Paris, she'd gone there to honor the dead and, at the same time, be thankful she was alive. This time though, she sat among the tombstones and trees, with her suitcase next to her, and sobbed until dark, when the cemetery closed. When Sally left Paris, she ended up in a place she thought she'd never be going back to: her parents' house in Queens.
Once their lives were set, however, thirtysomethings often didn't like being in them. In 1979, divorces hit a historical high point, when 22.6 marriages out of every 1,000 broke up, according to researchers at the National Center for Family & Marriage Research at Bowling Green State University.
Author Gail Sheehy pinpointed this dissatisfaction in her bestselling book Passages: Predictable Crises of Adult Life, which was originally published in 1974. She noticed it in herself first, when she had her own misgivings with who she was at 35. She'd married at 24, had a daughter four years later, and divorced her husband four years after that. Her daughter was now 7, and Sheehy was a successful magazine writer, but suddenly all of what she was doing didn't seem like enough, as if she'd stopped evolving herself too soon.
"Some intruder shook me by the psyche and shouted: Take stock! Half your life has been spent," she wrote in Passages. "What about the part of you that wants a home and talked about a second child? Before I could answer, the intruder pointed to something else I had postponed: What about the side of you that wants to contribute to the world? Words, books, demonstrations, donations — is this enough? You have been a performer, not a full participant. And now you are 35."
She used her own experience and interviews with 115 middle‑class men and women ages eighteen to fifty‑five to identify a period in their thirties that she called "the Catch‑30," when people suddenly wanted to be more than they were or tear up their life and start over. "I think I was very fortunate," Sheehy told the Christian Science Monitor, "in having the profession I do because in part I think every writer who does a book about serious subjects is working out some of their own demons."
Before then, no one had identified that adults — ancient already at 30! — might be having doubts about their lives. Sheehy gave them a voice and described the agony of suddenly reassessing all that you thought you had been responsible by building in the first place, with real sympathy. The book was on the New York Times Best Sellers list for more than three years.
"Men and women alike speak of feeling too narrow and restricted," she told People magazine in 1976. "They blame all sorts of things—their choices in their 20s of mates and careers. But what it boils down to is that choices perfectly suited to the 20s are no longer enough. Some inner aspect was left out that is striving to be taken into account . . . Suddenly one is less concerned with what I 'should do' than what I 'want to do.'"
Kayleen Schaefer is a journalist and author of Text Me When You Get Home and the bestselling Kindle Single memoir Fade Out. Her work has appeared in the New York Times, Vanity Fair, The New Yorker, Vogue, and many other publications. She lives in New York City.
In part, the increase is due to people marrying later — on average, at 30 for men and 28 for women (men are more likely than women to live with their parents). But education, or lack thereof, also affects people's ability to have their own homes. In general, people who have college degrees — and the pay and job security that comes with them — are less likely to stay with their folks. Those who don't are more likely to have trouble finding work that pays them enough to live independently.