The New Woody Allen Documentary Is A Nuanced Reckoning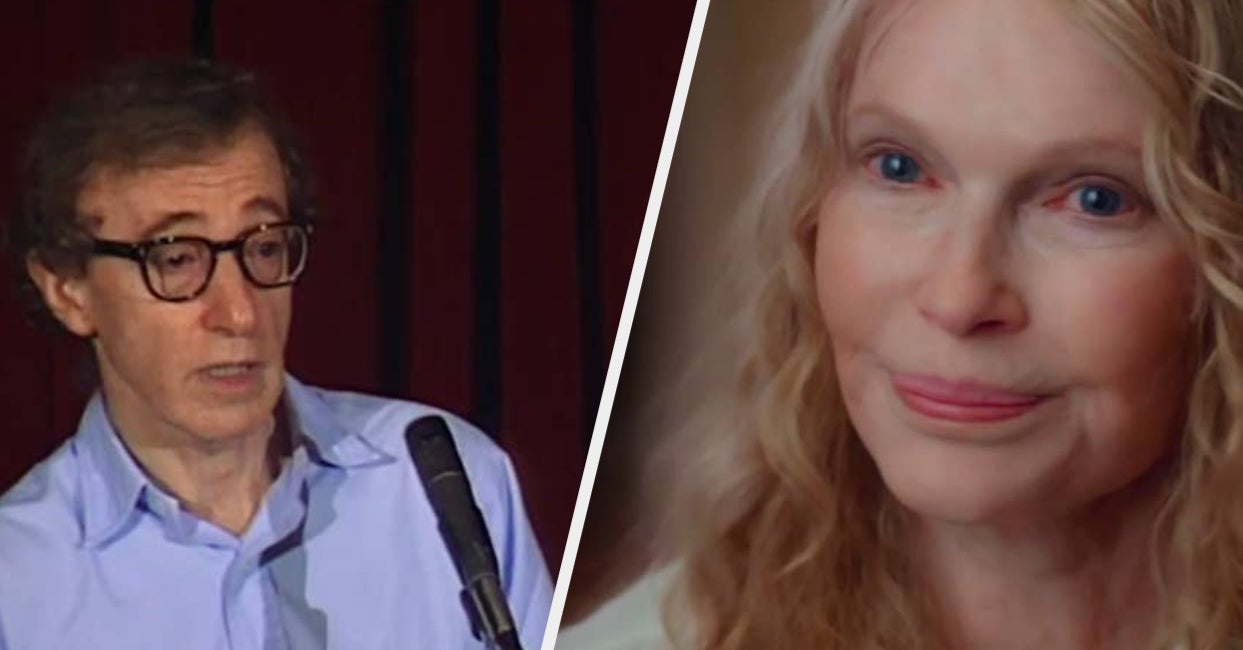 HBO's Allen v. Farrow revisits the stories of Dylan and Mia Farrow, providing a deep deconstruction of a '90s tabloid obsession.
Woody Allen's 1992 split from actor Mia Farrow — and his romantic relationship with her then-21-year-old adopted daughter, Soon-Yi Previn — became one of those monocultural '90s scandals that the public consumed through tabloid osmosis.
The saga played out in blaring headlines on the covers of New York daily papers, in nightly newscasts, and on talk shows. The sexual abuse allegations that then-7-year-old Dylan Farrow made against Allen were not the main story; they were a subplot in the contentious breakup narrative.
People split into Team Allen or Team Farrow, treating the story like a "he said, she said" celebrity tournament. Mia — the scorned woman — had "coached" Dylan into making her allegations, Allen claimed, in an effort to attack him.
By 2014, after an adult Dylan renewed her allegations against Allen, the media barely paid attention. (The New York Times chose to publish her essay in columnist Nicholas Kristof's blog rather than as a story in the actual paper.) Journalist Ronan Farrow (Dylan's sibling) tweeted about her claims against Allen during a Golden Globes tribute that year, setting off something of a social media reckoning. But it wasn't until #MeToo that actual consequences started taking place; some actors refused to work with him, and others later expressed regret at having done so. In 2018, Amazon canceled its contract with Allen.
Allen v. Farrow, the new, multi-part HBO documentary by Amy Ziering and Kirby Dick dropping Sunday, joins a number of recent series critically revisiting the way '90s media and the court system treated claims of sexual abuse. (Allen declined to participate in the series, and he denies any allegations of sexual abuse. On Sunday, Allen and Soon-Yi Previn released a statement calling the series a "hatchet job riddled with falsehoods."). It's a reclamation of the stories from Mia and Dylan, an examination of the court cases against Allen, and a reckoning with the gendered biases of the judiciary and media. This documentary, like other recent ones, doesn't contextualize race in its critique of gender politics. Still, Allen v. Farrow is a nuanced example of what the revived genre can do.
The series doesn't just provide the personal stories behind the headlines, but it also reexamines the court cases against Allen — in Connecticut, where Farrow had a residence, and in New York — and how he presented them in the media.
A Yale New Haven Hospital investigation, ordered by the prosecutor, got hijacked by Allen. He staged a press conference to announce he'd been acquitted after somehow getting the reports, which said Dylan sounded rehearsed, before the attorney.
In fact, according to the film, social workers had interviewed Dylan nine times, which went against normal operating procedure for child sexual abuse even at the time. As she recalls: If she had been consistent in her story, they'd say she was "coached," and if she had made changes, they'd say she was "inconsistent." Allen, for his part, refused a polygraph. The Connecticut prosecutor believed there was probable cause but chose not to pursue it so as not to retraumatize Dylan. In New York, a social worker who interviewed Dylan said he believed her and was fired. (Reportedly, child welfare authorities faced pressure from then-mayor David Dinkins to wrap up the case.)
During the custody case in New York, Allen's lawyers introduced the concept of "parental alienation" — coined without any actual evidence — about women weaponizing sexual assault allegations against their husbands in custody cases. Allen had powerful publicists and lawyers parroting his talking points.
Even with the media stacked on Allen's side, the custody judge ruled against him and wondered whether he should ever be allowed visitation rights again. (Dylan herself chose never to see him again.) Yet, until the case's resurgence during the #MeToo movement, the public had viewed Mia as an angry ex-partner, and Dylan as a "coached" child.
The Allen/Farrow story is complex in part because it's many stories in one: a celebrity tabloid tale, a personal melodrama, and a cultural morality play. The series' four episodes effectively weave all these strands into a coherent indictment of Allen and the power he wielded.