The FBI Has Tracked Down Some Of The Capitol Rioters In Truly Surprising Ways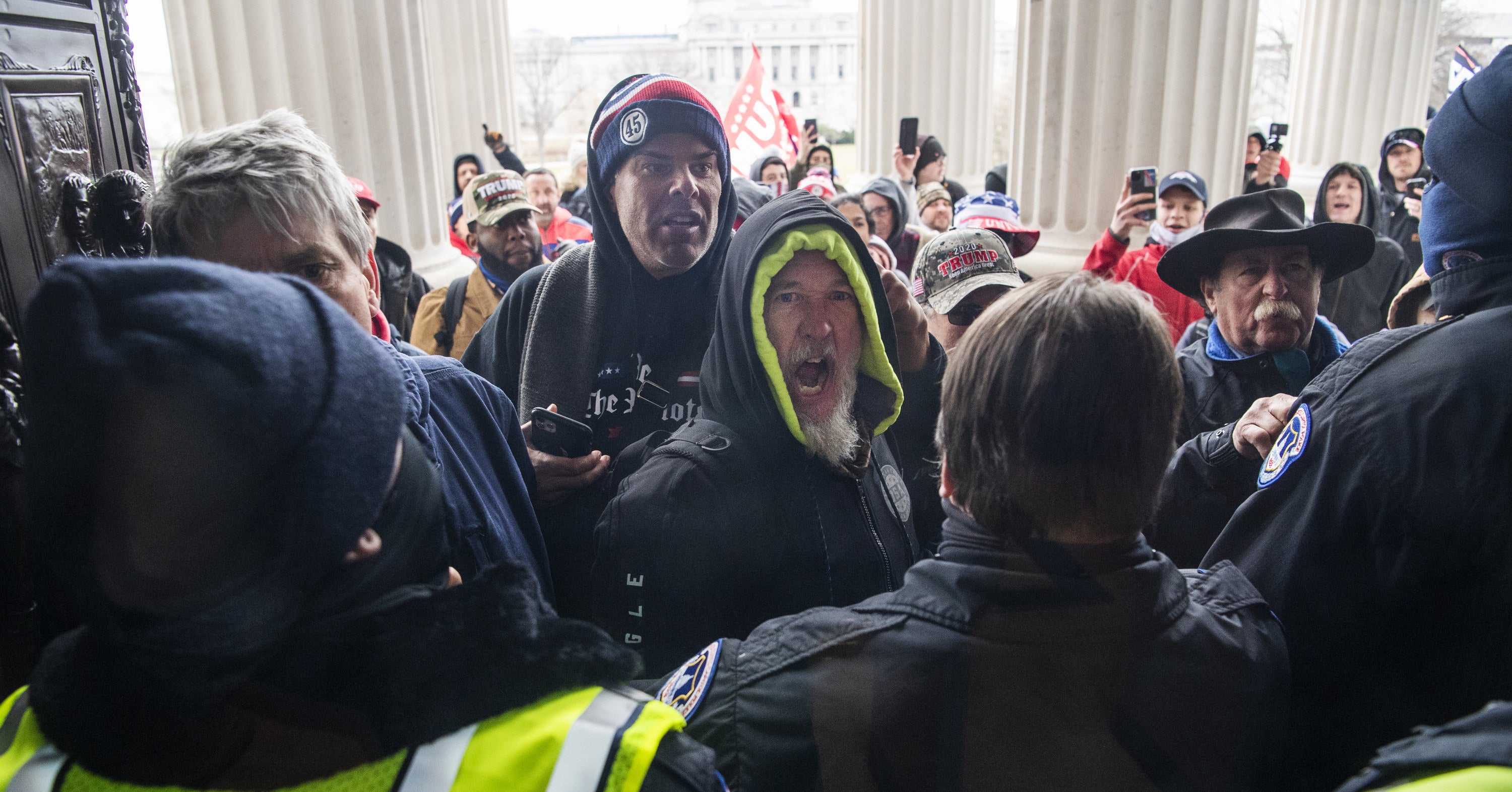 One of the Capitol defendants was identified by an FBI agent he went to college with. Another was arrested trying to stop a relative from getting the COVID vaccine.
WASHINGTON — On Feb. 13, Maryland State Police officers encountered Daniel Egtvedt trying to stop an older relative from leaving home to get a COVID-19 vaccine.
Another family member had called the police, fearing Egtvedt would use "physical interference," according to court papers. Egtvedt allegedly told the officers at the time that he wouldn't let his relative leave because of a fringe conspiracy theory that the vaccine would "eventually kill off a lot of people as a population control method from the government."
He wasn't arrested on the spot, but when officers ran his name, they made a discovery: Egtvedt was wanted in connection with the Jan. 6 insurrection at the US Capitol for assaulting multiple police officers, obstructing Congress, and illegally entering the Capitol. Later that day — and more than a month after the Capitol riot — he was arrested by state police and is now in federal custody.
The government has to do more than simply identify the hundreds of people who descended on the Capitol as lawmakers met to certify the results of the presidential election. Investigators have to confirm a suspect's identity to a degree that would convince a judge they've arrested the right person. They have to pull together evidence showing what exactly that person did at the Capitol. And then they have to find that person to take them into custody.
With Morgan-Lloyd and Bissey's names in hand, the FBI found tips that witnesses had submitted about both women after the insurrection. One witness, who was later interviewed by the FBI, had visited a salon that Bissey owned over the years and said that Bissey "regularly spoke supportively of QAnon and other conspiracy theories." The witness also turned over screenshots of Facebook posts that Bissey allegedly put up about her experience at the Capitol, including a few where she tagged Morgan-Lloyd.
"Best fucking day ever!! I'll never forget. We got into the Capitol Building," Bissey wrote in response to a comment on a photo she'd posted inside the Capitol, according to charging papers.
Morgan-Lloyd and Bissey are charged with illegally being at the Capitol and disorderly conduct. Their case was one of several where the government described how people suspected of participating in the insurrection went back to the minutiae of everyday life — and how that sometimes helped the investigation.
In charging documents for Clayton Mullins, an FBI agent explained that they'd found Mullins' driver's license thanks to a "lead" — the affidavit didn't include details about where that "lead" came from — and used information from the license to track down a bank account under his name. The FBI interviewed a bank employee on Feb. 5 who said they'd known Mullins for around 30 years. Presented with a photo from the Capitol, the employee identified Mullins and told the FBI that he'd been at the bank just one day before the agents showed up.
Some Capitol rioters have made it easier for the FBI to find them than others. Court papers describe chance encounters, like the one that led to Egtvedt's arrest, and coincidences, like an FBI agent who recognized a former classmate who posted online about storming the Capitol. A vast network of people have helped the feds so far in building cases against their friends, family members, exes, coworkers, neighbors, clients, and even fellow Trump supporters. These cases also showcase a range of law enforcement tradecraft — facial recognition software, license plate readers, cellphone tower data, search warrants to social media companies and messaging platforms like WhatsApp, and even old-fashioned stakeouts.