Teachers Are Being Pushed To Their Breaking Points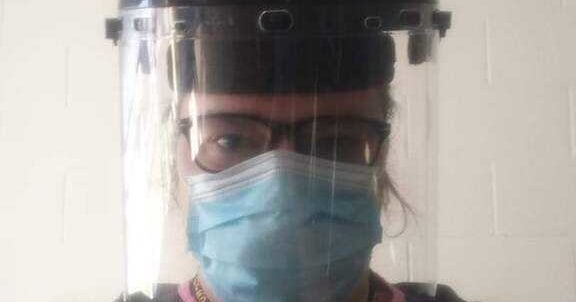 "At first it was, 'Oh we love our teachers' and now it seems like people are sick of having their kids at home and want their babysitters back."
Students in her district are required to wear masks, but this isn't the case in a lot of Texas schools, where children under 10 are exempt in some areas. And Caitlin believes that some students at her school have gotten COVID-19, but she says there is no mandate for testing. Instead, students were given permission slips for parents to sign so that they could be tested at school for the virus, but most did not return the form, Caitlin said.
Caitlin is not alone in feeling deeply frustrated as a teacher right now. The chorus of voices — including aggressive parents — calling for schools to reopen across the country continues to grow. And there are legitimate reasons for wanting to do so: Virtual learning has been taxing, there's great concern about what the pandemic has done to children's mental health, and there are now updated guidelines from the CDC for how schools can safely reopen. Still, many educators are feeling undervalued and ignored.
BuzzFeed News recently asked teachers around the country to share their thoughts on reopening schools and how they are coping right now. Hundreds of teachers responded, revealing their uncertainty about the future, burnout, and frustration with parents, who they say look at them as glorified babysitters. Some teachers even expressed their desire to quit.
According to a New York Times story from January, no one knows exactly how many educators have died from COVID-19, but the confirmed death toll is at least 500. Molly, a 29-year-old ninth-grade English teacher who lives in Kissimmee, Florida, who asked that her last name be withheld, recently took out a significant life insurance policy after a local radio station advertised that educators could get them for free. For her, the stakes for reopening prematurely are crystal clear: "What we are discussing is what is the acceptable number of public school teachers to die."
The consequences of not adhering to COVID-19 precautions can be life-threatening. Bonny Cannon, 43, who teaches agriculture at a specialized publicly funded high school for students with special needs, believes she contracted COVID-19 at work. Schools in North Carolina, where Cannon lives, closed last April in response to the pandemic, but Cannon's school reopened for in-person learning on Nov. 2, according to the Winston-Salem Journal. (Other public high schools in the state resumed in early January.) Students at Cannon's school aren't required to wear masks, although the school suggests they do.
Cannon returned to in-person learning in early November, teaching four days a week, and recalled dealing with a maskless student who kept getting in her face. "I don't see how even people in regular schools are going to get everybody to wear a mask because if you can't get everybody to sit down when you tell them to sit down," Cannon said. "If you can't get compliance on a regular day," she trailed off. Shortly after, Cannon said she got an email about a possible exposure to the virus in her class, though the maskless student wasn't the one who was sick.
Then, the week before Thanksgiving, during a time health experts predicted a surge in cases because of holiday travel, she began to feel sick, experiencing fatigue, chills, and body aches. Cannon also lost her sense of smell, but when she got tested for the coronavirus, the result came back negative. Her husband, who had diabetes and was disabled, became sick with all of the same symptoms Cannon had. He was admitted to the hospital on Nov. 28 and died on Dec. 9 of COVID-19 complications.
"There were times I felt like, essentially, I killed my husband. That's how you feel, but I've had to come to peace with it because I did the best that I could," Cannon told me. "I did the best that I could, and I did what I had to do because we couldn't live without me going back to work."
Cannon said she is certain she contracted the virus at school and subsequently gave it to her husband, as she only left the house for work or to go grocery shopping. She said she always wore a mask — even in her home — and would wash her hands and change her clothes after leaving work for home. But even while taking every precaution she could, there's no way for her to definitively know how — or where — she may have contracted the virus.
"There's not a way to get a true number of the outbreaks that were truly school spread because the way that [administrators] look at exposures are not a true reflection," Cannon said, speaking about the bigger implications of her false negative result. "I wanted to have a positive test so that my kids could be quarantined and my number could count on my school's dashboard," Cannon said. (Cannon is not alone. There have been a number of reports of false negatives from faulty COVID-19 tests.) "My number will never count, and I wonder how many other people whose numbers don't count."
UPDATE
The last name and photo of one of the people interviewed for this story have been removed at their request.
An art teacher in Dallas, who wanted to remain anonymous, described her morning routine. Upon waking up, she checks her temperature, and once she arrives at her school, she spends 30 minutes doing temperature checks for students and reminding them to wear masks. Then she does a headcount, sanitizes everyone's hands, and finally begins teaching, starting with her kindergarteners, who "have no idea how to socially distance."