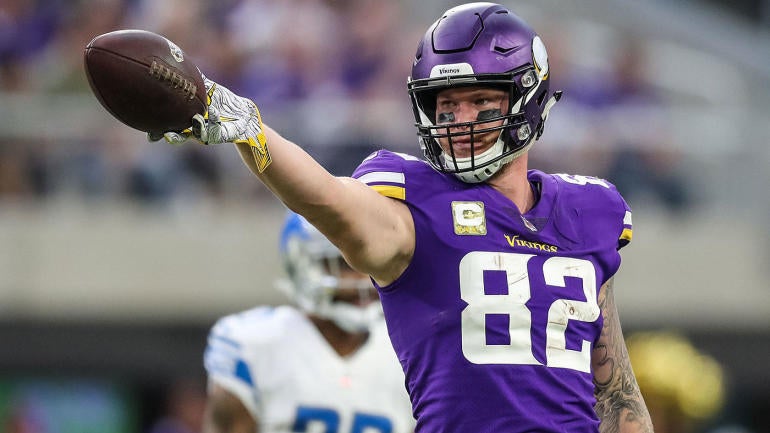 Kyle Rudolph's tenure with the Minnesota Vikings came to a close after 10 seasons on Tuesday, but it doesn't look like the veteran tight end will be out of work for long. One team that Rudolph is interested in joining is the New England Patriots, according to Doug Kyed of NESN. New England did make a run at trading for Rudolph as recently as a couple of years ago. Given its inability to find a premier option at tight end over the past two seasons, it wouldn't be surprising to learn that New England's interest in acquiring Rudolph remains. 
Currently, the Patriots have 2020 third-round picks Devin Asiasi and Dalton Keene on the roster. Both are looking to put a dent in their NFL careers after their rookie campaigns saw little to no production. Asiasi was active for nine games (three starts) and caught just two passes for 39 yards and a touchdown. Meanwhile, Keene was active for six games and caught three of his five targets for 16 yards. New England also has veterans Ryan Izzo and Matt LaCosse on its 90-man roster, but are looking for a bridge veteran who can produce while Asiasi and Keene develop.  
Despite the high number of bodies at tight end on their roster, it won't preclude New England from seriously looking to inject some talent in a unit that has been lackluster since the departure of Rob Gronkowski following Super Bowl LIII. 
Rudolph presents an opportunity to do just that. The 31-year-old is a proven and highly talented player at the position. In 12 games played in 2020, the two-time Pro Bowler caught 28 passes for 334 yards and a touchdown. That lone touchdown doesn't exactly show how much of a threat the 6-foot-6, 265 pounder has been in the red zone over the course of his career, but he'd instantly be a go-to option for New England in that area of the field. He's also a sturdy blocker in the passing game and in the running game, which is the type of well-roundedness that Bill Belichick could find ideal.  
Similar to the newest member of the Cardinals in J.J. Watt, Rudolph is free to sign with a team prior to the start of free agency on March 17 and he should have a rather healthy market for himself. That said, the Patriots have plenty of cap room to be competitive so they should be right in the thick of the bidding for his services.