"Call My Agent!," "Industry," And The Allure Of The Workplace Drama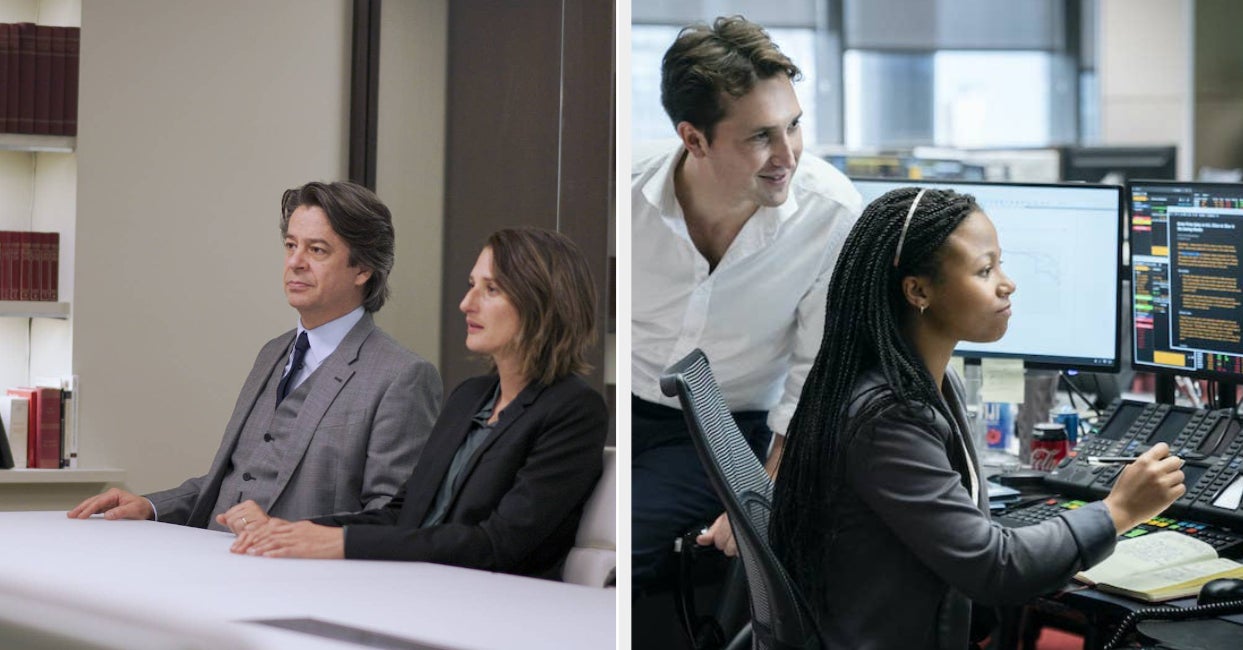 The French crossover hit and the darkly sexy investment firm drama each emphasize the thrills — and the downsides — of making work your identity.
After watching the first season of Emily in Paris and thoroughly regretting every second, a friend recommended I try another Netflix offering instead. Call My Agent!, the buzzy dramedy series about a French talent agency, has all the dreamy Parisian settings without the grating American protagonist — and the clothes are better too, my friend promised.
Call My Agent! premiered in 2015 on France 2 under the title Dix Pour Cent ("ten percent"), and the show has since gained a new and highly enthusiastic international audience thanks to being picked up by the streaming giant. Television critic Robert Lloyd just detailed for the Los Angeles Times how Call My Agent! "became an American sensation." Suddenly it seems as though everyone I know is either gushing about this series or looking forward to watching eventually, as soon as their brains can handle subtitles again. (I admit that, while ultimately worth it, having to pay such close attention right now is a struggle.)
Even though much of Call My Agent!'s draw is escapist — the casually impeccable Parisian style; lavish parties for the Cannes Film Festival and César Awards — it's also, strangely, a nostalgic comfort for those of us missing the camaraderie and, perhaps even more importantly, the gossip afforded by the workplaces we left behind last year. Though my own office isn't quite as small and intimate as the Samuel Kerr Agency, or ASK, its ambitious employees' total inability to separate their personal and professional lives is all too familiar to me.
When we meet our cast, ASK's namesake and founder has just died, leaving the remaining agents scrambling to ensure the company's future. There's Mathias (Thibault de Montalembert), angling to be the new patriarch of what he frequently calls the ASK "family" — which is complicated when a member of his actual family, an estranged daughter, Camille (Fanny Sidney) shows up and lands herself a job there. Camille has the tough task of assisting Andréa (Camille Cottin), an incredibly chic, shrewd, and demanding agent who both works hard and plays hard. Most of the women I know who've devoured all four seasons of Call My Agent! either want to be Andréa or sleep with Andréa (or both, tbh). She's gorgeous, darkly funny, a true believer in the transformative power of film, and a breathtakingly bossy femme dyke — truly, what more could you ask for?
Mathias, Andréa, and their fellow agent Gabriel (Grégory Montel) are all work-obsessed, ready and willing to devote every hour of their days to the needs of their actors, no matter how silly or frivolous. A revolving cast of real French stars, including Juliette Binoche and Isabelle Huppert, ups the stakes: Should ASK lose even a single A-list client, the future of the agency could be in jeopardy. The agents are ruthless, quick to backstab one another so that their own client gets the role or the award, but ultimately they have to work together to succeed. In that way — the screaming at each other one minute, begrudgingly bailing each other out the next — ASK does resemble a real family, one composed of hypercompetitive siblings who must weigh their own interests against those of the whole, who have to put up with one another's more loathsome qualities because fate would have it that they're stuck together.
There's a similar though less transgressively French vibe to Industry, HBO's 2020 drama about a group of young graduates competing for permanent positions at an investment bank in London. Wistful nostalgia swept over me when I binged the series' first season last year. Like the agents at ASK, the wannabe bankers at Industry's Pierpoint are hungry and ruthless, willing to sell each other out to get ahead — and yet, united by the same dizzying pressures, the same resentments for the same asshole bosses, they only have each other for commiseration and camaraderie. Anyone outside of that intense, rarefied world just couldn't possibly understand.