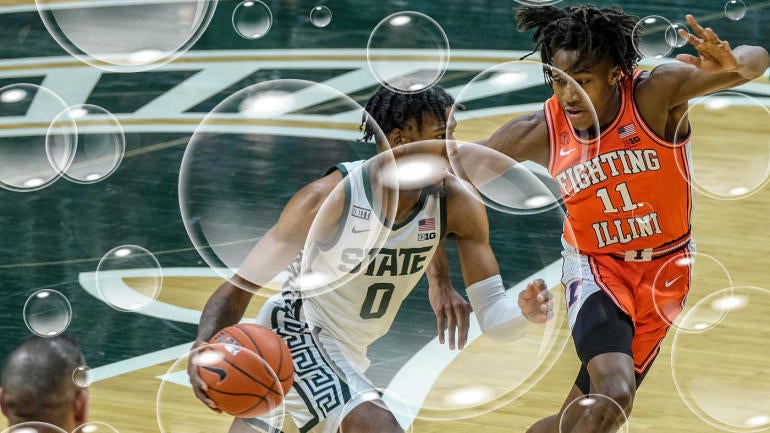 CBS Sports Graphic
Let's start with the good news for the bubble. We are welcoming two new teams to the party.
Georgia Tech won at Virginia Tech 69-53 in the Hokies' first game back from a 17-day COVID-19 pause. The Yellow Jackets picked up their best win away from home of the regular season.
In the Big Ten, Michigan State upended Illinois 81-72 for its second win of the season against a likely NCAA Tournament team. The Spartans also have two road wins over Indiana and Duke, two other bubble teams.
Sparty's schedule down the stretch is brutal, though. Ohio State visits Thursday night, followed by games at Maryland, home to Indiana and a road-and-home series with Big Ten leader Michigan.
VCU won the double-bubble game with Saint Louis in Richmond on Tuesday night, putting the Rams back in first place in the Atlantic 10.  SLU missed another opportunity to pick up a good win away from home and it is getting harder to justify keeping the Billikens in the bracket.
Here are the bubble teams in action Wednesday. All times Eastern
Bubble teams in action Wednesday 
| Team | Game | Time (TV) | Bubble breakdown |
| --- | --- | --- | --- |
| | ST. BONAVENTURE at Davidson | 5 p.m. (CBSSN) | St. Bonaventure has a chance to move into a tie with VCU atop the Atlantic 10 standings with a win. The Bonnies won the first meeting with the Wildcats just three days ago. This would be a Quad 2 win for St. Bonaventure if it gets it, and the Bonnies cannot really afford to take any more losses to non-tournament teams. |
| | UNC vs. Marquette | 7 p.m. (ESPN2) | For the second week in a row, UNC has filled a hole in its schedule with a nonconference game, this time against Marquette. The Golden Eagles have had a rough year in the Big East, but they do have wins over Creighton and Wisconsin, so the Tar Heels better show up ready. |
| | SETON HALL at Butler | 7 p.m. (CBSSN) | The Pirates are coming off a bad loss at Georgetown last time out. Seton Hall is just 5-8 against Quads 1-2, which might be manageable against a Big Ten or Big 12 schedule, but not this one. Only two of those five wins have come over potential tournament teams. They cannot fix this problem on Wednesday, but they can do a lot of damage to their tournament hopes with a loss. |
| | INDIANA at Rutgers | 8 p.m. (BTN) | Which Indiana will show up — the one capable of beating Iowa twice or the one capable of losing at home to Northwestern and Michigan State? It's been that kind of up and down year for the Hoosiers, which now begin a very difficult stretch of games to end the regular season. This is an important game for the Scarlet Knights too, which have lost three of four and seen their overall record drop to 12-9. |