Biden Is Planning To Bring Back Immigrants Who Were Forced To Wait In Dangerous Mexican Border Towns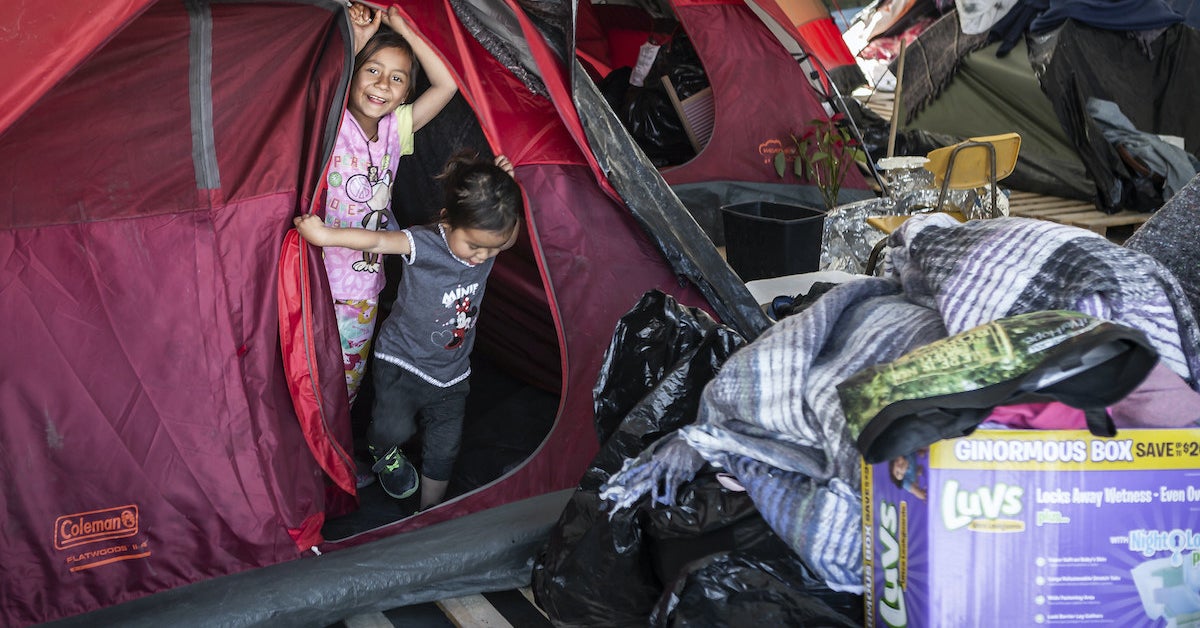 The Biden administration's plan will start slowly at three ports of entry and target those who were forced into Trump's controversial "Remain in Mexico" program.
Immigrants who were forced by former president Donald Trump to wait in dangerous conditions in Mexico while they tried to gain asylum will soon start being allowed to enter the US at certain ports as the Biden administration attempts to wind down the controversial policy, according to documents obtained by BuzzFeed News.
The unprecedented effort, which is expected to be rolled out within the next two weeks, is the beginning of President Joe Biden's promise to end the Trump administration's "Remain in Mexico" policy — formally known as the Migration Protection Protocols (MPP). The policy led to tens of thousands of asylum-seekers being forced to stay in Mexico as they waited for their day in a US court. Often left with nowhere to go but squalid camps in Mexican border towns, human rights advocates reported cases of the immigrants being kidnapped, raped, and tortured.
The new plan calls for the asylum-seekers to be allowed into the US without being detained by Immigration and Customs Enforcement (ICE) unless they have a serious criminal record or are unaccompanied children, who will be sent to Health and Human Services officials.
Once in the US, the immigrants will be taken to local shelters and be required to check in with ICE officials as part of an "alternative to detention" in which they could also be forced to wear ankle bracelets for remote monitoring, the draft plan says.
In late 2019, BuzzFeed News obtained a draft report from a team of senior DHS officials who examined the Remain in Mexico policy and found that border officials apparently pressured US Citizenship and Immigration Services (USCIS) officials to deny entry to immigrants. The "Red Team" recommendations call on agencies within DHS, including Customs and Border Protection, to provide immigration court hearing notices in multiple languages, improve language access, and ensure that immigrants understand the "questions asked and can make informed decisions."
They also recommended that procedures for screening vulnerable populations, like children and people with disabilities, be standardized, and that the role of CBP officers in the process is clarified.
Immigrant advocates and experts often criticized the lack of opportunity that immigrants enrolled in the Remain in Mexico program had to actually win their cases. According to data compiled by the Transactional Records Access Clearinghouse at Syracuse University, just over 600 of the more than 70,000 people who were pushed into the program were granted some form of relief. The vast majority of people in the court system were not represented by attorneys and were issued deportation orders.
The program also ran into practical issues, such as a period of time in which, according to attorneys, US officials were going out of their way to keep those who had been granted asylum out of the country by issuing fake court date notices.
The Biden administration's plan, which will start slowly at three ports of entry, targets those who were pushed into the Remain in Mexico program and still have active cases in US immigration courts, according to a draft of the plan obtained by BuzzFeed News. Those who qualify after registering online should not come to the border, but instead wait for instructions to start the entry process, a source with knowledge of the plan said.