An Alleged Capitol Rioter Texted His Ex That She Was A "Moron." Then She Turned Him In.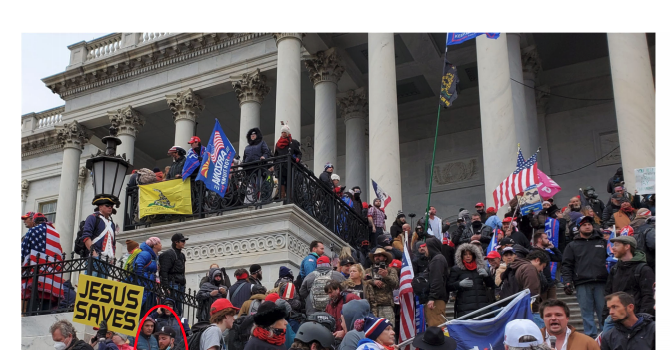 "If you can't see the election was stolen you're a moron," Richard Michetti texted his ex on Jan. 6, along with videos from the Capitol. She went to the police the next day.
WASHINGTON — Over the span of several hours on Jan. 6, Richard Michetti sent his ex-girlfriend text messages and videos that documented his experience "storming" the US Capitol, according to court papers. He also texted that she was a "moron" if she didn't believe the election had been "stolen."
She turned him in to the police the next day.
The texts were featured in newly unsealed charging papers against Michetti this week. He was arrested on Tuesday and then released to home detention at a residence in Ridley Park, Pennsylvania, just south of Philadelphia, while his case goes forward. He's charged with obstructing official proceedings of Congress — a felony crime — as well as several misdemeanors for unlawfully entering a restricted building or grounds and violent entry and disorderly conduct on Capitol grounds.
The FBI has fielded thousands of tips in the weeks since a mob of hundreds of supporters of now-former president Donald Trump descended on the Capitol as lawmakers met to certify the results of the presidential election. Charging papers show that the alleged rioters' friends, family members, coworkers, former classmates, and, yes, exes have played a pivotal role in helping investigators identify and track down suspects.
Michetti's charging papers describe in detail how his ex gave the FBI everything they needed to build the case against him. In addition to the texts and videos, which created a timeline of his alleged involvement in the insurrection from start to finish, the ex also provided his birthdate, address, phone number, and other information about his phone.
The ex-girlfriend, who isn't named in court filings but is identified as a woman, went to police on Jan. 7. The charging papers don't specify what law enforcement agency she contacted. She then gave a full interview to the FBI on Jan. 11, telling agents that Michetti had gone to Washington because he "believed the election was stolen from President Trump."